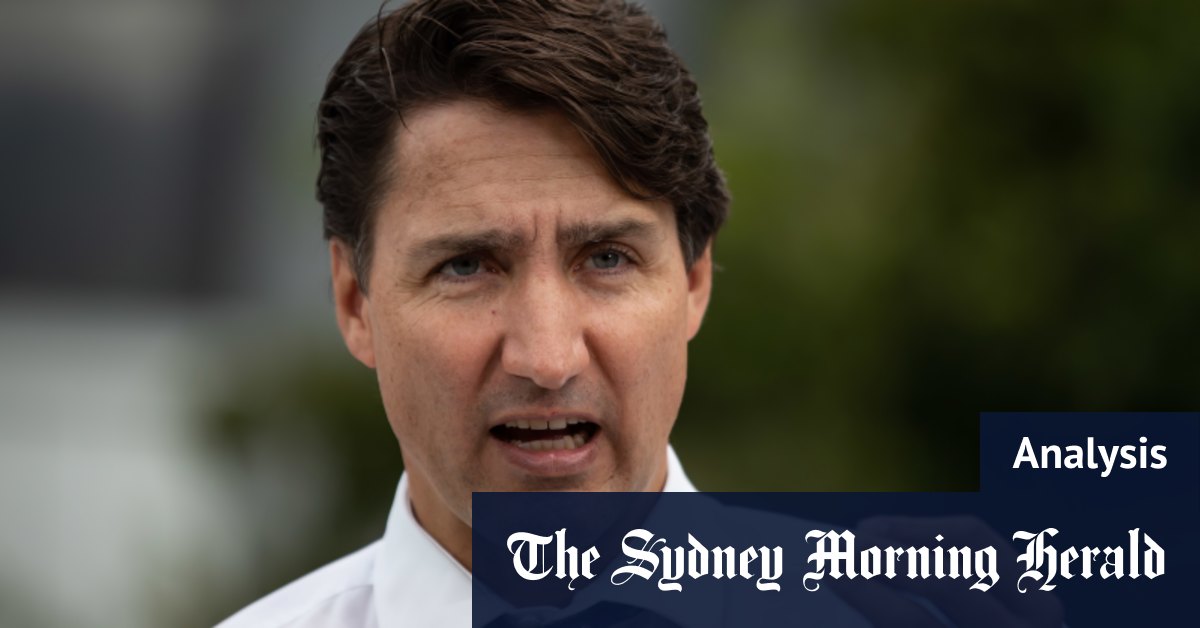 World
Why Scott Morrison will be watching Canada's election closely
"Trudeau would definitely not have called a snap election to check in with the people if the Liberals were in the majority," Canadian political scientist David Moscrop says. "They figured they had a shot at a majority and the worst-case scenario was they would be returned with a minority."
When Trudeau called the election in mid-August, the Liberals had a six point lead over the Conservatives in the Canadian Broadcasting Corporation polling average. By the start of September there had been a dramatic turnaround: the Conservatives were now leading by three points.
Despite the country's high vaccination rate, COVID cases were surging again: Canada is now recording an average of 4000 new cases a day, up from 1800 when Trudeau called the election. Trudeau was also criticised for failing to get enough Canadians and Afghan allies out of Kabul before the US withdrawal. And while voters were pleased with their nation's vaccine success, they were grumpy about being forced back to the polls within two years.
Loading
"There was a backlash to him calling the election in the first place," Moscrop says.
The election campaign has not been the easy victory march Trudeau surely imagined when he decided to go to the polls early. On the campaign trail Trudeau has been hounded by what he calls "anti-vaxxer mobs" – protesters angry at coronavirus vaccine mandates and other public health measures. Last week one protester threw gravel at Trudeau and was later charged with assault.
Then on Wednesday (Australian time) Trudeau shouted at a protester who had yelled derogatory remarks about his wife Gregoire. "Isn't there a hospital you should be going to bother right now?" Trudeau fired back, a reference to anti-vaccine protests that have recently been held outside Canadian hospitals.
"I've a pretty thick skin and I am able to take all sorts of different abuse," Trudeau said after the incident. "But he went after my family."
Opposition to vaccines is a relatively fringe position in Canada, but the far-right People's Party is trying to capitalise on this sentiment by campaigning against vaccine mandates and passports.
The People's Party has doubled its support in the polls from 3 per cent to 7 per cent in recent weeks. That's a worrying sign for the Conservatives given the parties are competing for the same right-leaning voters. The polls now show the Liberals and Conservatives essentially tied, with 34 and 33 per cent of the vote respectively.
Trudeau also has another advantage: the Liberals' votes are distributed much more efficiently than the Conservatives. In 2019, the Conservatives won 34 per cent of the vote and the Liberals 33 per cent but Trudeau's party won 36 more seats thanks its dominance in crucial suburban seats. The Liberals could quite possibly lose the popular vote again while retaining power.
Based on the polls, the CBC gives Trudeau a 56 per cent of returning to power in a minority and a 16 per cent chance of winning a majority. The Conservatives have a 28 per cent chance of winning power.
Get a note direct from our foreign correspondents on what's making headlines around the world. Sign up for the weekly What in the World newsletter here.
Source link